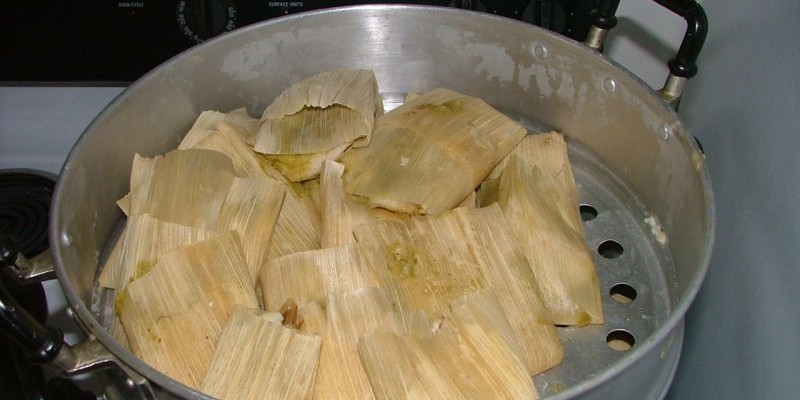 The History of the Tamale
Tamales are one the most delicious of all Latin American dishes and are made from a corn-based starchy dough known as masa. This is then either boiled or steamed in a corn husk. Once they are ready to eat, the wrapper is discarded with meats, vegetables and cheeses placed within the tamales for a delightful meal. A perfect example of this can be seen at Guero's Taco Bar in Austin, Texas. Their Tamale Plate includes three tamales topped with chile con queso. It could be said that tamales are the Latin American version of sandwiches but they enjoy a longer and more storied history.
The name tamale comes from the Nahuatl word 'tamalii' which literally means 'wrapped food'. The exact origin of the food is disputed amongst historians. Some say that tamales owed their existence to Mesoamerican tribes from as far back as 8,000BC. Other historians attempt to be more precise and claim tamales first originated in the Sierra Madre Mountains in Mexico in 3,000BC. Those who inhabited the mountains took wild grasses and hybridized them to produce corn. The Mayan and Aztec civilizations considered corn to be a sacred plant and it was their chief food source. Tamales were used as a portable food for the armies and hunters of these tribes.
By the time Hernan Cortes attacked the Aztec empire in February 1519, it was a well established food staple in Mexico. This is known thanks to the 12-volume series on the Aztecs which was written by Franciscan Friar, Bernardino de Sahagun. In his work entitled 'General History of the Things in New Spain' in the 1550s, Sahagun mentions tamales on numerous occasions when discussing the Aztec diet. Apparently, the Aztecs gave Spaniards tamales when they first came into contact.
It was only a matter of time when tamales would become popular north of the border. It is surprising however that the tamale was only introduced in earnest in the United States in 1893 when they were popular at that year's World's Colombian Exposition. Their popularity in the U.S grew so rapidly that the 1937 hit single 'They're Red Hot' by Robert Johnson is all about tamales. In the modern era, tamales are on sale in thousands of restaurants in the United States. However, eateries close to the Mexican border in Texas such as Guero's Taco Bar are renowned for serving the finest tamales in the entire nation.
Tamales are also a New Year's Day food. They are made for special occasions like the Day of the Dead, Christmas, New Year's or just about any other family or holiday celebration.
It's usually a family affair. Many family members gather together to make the fillings and masa the day before. The following day, an assembly line of family of all ages form to spread the masa on corn husks, fill and fold the tamales. Once all the tamales are assembled, they are steamed and finally eaten. Usually hundreds of tamales are made at once so everyone can take some home and share with friends and family. This party is most comonly known as a Tamalada.
ARTICLE SOURCE: http://www.articlesbase.com/main-course-articles/the-history-of-the-tamale-3811868.html